Theater (13)
3rd or 2nd century B.C.
Western Hill
Limestone, porphyritic rhyolite
---
A place of performance and witness, the Theater occupied a key position in the Sanctuary, physically connecting the central valley with the western plateau near the Nike Precinct and the southern end of the Stoa. The Theater was favorably placed to open the view of the Nike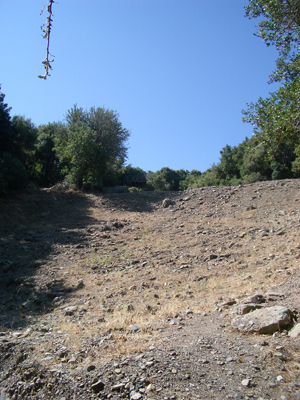 from the heart of the Sanctuary, and its seats offered the audience a prime vista of the cult buildings to the east and north.  The theater takes advantage of the natural topography, using the steep hillside to support the seats in the koilon.  The torrent separating the central valley from the west side of the Sanctuary flowed directly in front of the theater, limiting the area available for orchestra and skene. The skene was likely a temporary structure erected in wood. The Altar Court, directly opposite the koilon may also have served as a further backdrop, especially for ritual performances. At the time of the French-Czech excavations in 1923, several rows of multi-colored seats made of white limestone and red porphyritic rhyolite were visible.  Although very little of the Theater's structure remains visible today, the broad curve of the koilon imprinted on the hillside gives a vivid sense of the original position of the Theater.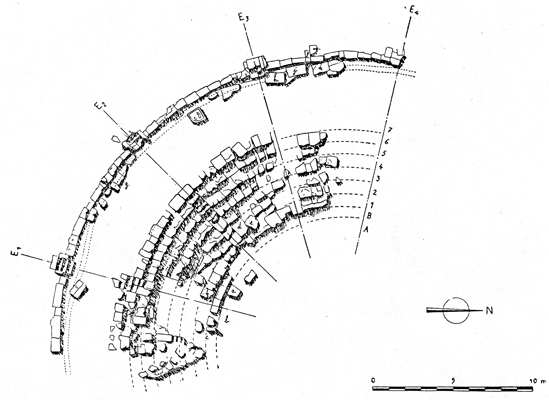 The Theater served for ritual performances related to the mysteries and for the annual festival (likely a Dionysia).  Performances retelling the mythology of Samothrace were probably enacted in the Theater, as inscriptions record honors bestowed on Hellenistic poets for their works focused on the legendary history of the Sanctuary and its key deities.  Dymas of Iasos was honored for his dramas concerning Dardanos, a member of the mythological family of Samothrace and the founder of Troy.  Herodes of Priene was similarly praised for his poems relating to myths central to the Samothracian cult, including tales of Dardanos and his brother Aetion and Kadmos' abduction of Harmonia.  At least two other inscriptions mention specific poets and musicians (Diomedes, son of Metrodoros, from Ionia, and Athenikon, son of Satyros, from the Hellespont) sent to the island as delegates for festivals held there. The theater is strongest evidence we have that the Sanctuary served not only for initiation during the mysteria but also as the locus of the island's annual festival.
Selected Bibliography:
Bouzek, J. et al. 1985. Samothrace: 1923/1927/1978. The Results of the Czechoslovak Excavation in 1927 conducted by A. Salač and J. Nepomucký and the Unpublished Results of the 1923 Franco-Czechoslovak Excavations conducted by A. Salač and F. Chapouthier, Prague.
Chapouthier, A., A. Salač, and F. Salviat. 1956. "Le theatre de Samothrace,"BCH 80, pp. 118-46.
Lehmann, K. 1998. Samothrace: A Guide to the Excavations and the Museum. 6th ed., rev. J. R. McCredie, Thessaloniki, p. 91.
Rutherford, I. 2007. "Theoria and Theatre at Samothrace. The Dardanos by Dymas of Iasos," in The Greek Theatre and Festivals, ed. P. Wilson, Oxford and New York, pp. 279-293.